Home
--› Mobile Text SMS Software for BlackBerry Mobiles
Mobile Text SMS Software for BlackBerry Mobiles
Bulk SMS Software for BlackBerry Mobile Phones compose and send group sms from PC to multiple mobile phone users via using BlackBerry mobile devices.
So if you are using BlackBerry mobile phone and needs to send sms to thousands of recipient's mobile phone from computer, simply use blackberry mobile messaging software to send sms without need of internet connection.
Blackberry sms to pc software provides blackberry mobile marketing app to connect with larger people with blackberry sms computer program.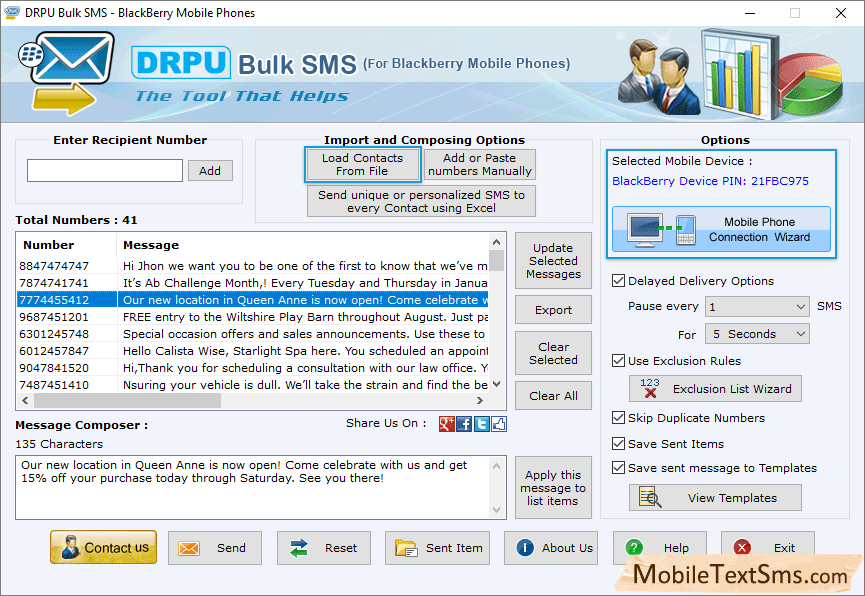 Software Features :
Blackberry sms text message program provide option to Load bulk of Contact numbers from File or using Excel sheet.
Bulk sms software with exclusion list wizard option to maintain the Lists of contacts or groups, which you may need to exclude time to time when sending messages.
Software facilitates to send text SMS in English as well as in Unicode characters.
Software provides facility to send sms using Delayed Delivery Option to control and customize the load of SMS broadcasting.
Blackberry sms sender program provide option to save sent message to templates.