Home
--› Text SMS Software (Multi USB Modem)
Text SMS Software (Multi USB Modem)
Bulk SMS Software for USB Modems is bulk text messaging solutions that allow to send bulk numbers of text SMS through USB modem connected with your computer or laptop. Now no need to type same text message again and again simply utilize bulk SMS software to compose and send multiple number of text messages from computer using USB modem. You can connect multiple numbers of USB modems with PC to send unlimited text messages without require any internet connection.
» Communicate with your business partners and other people with bulk SMS software!
Bulk text messaging program for USB modem send bulk number of text messages from PC using USB modem. Now you can easily communicate with your business partners, customers, friends and relatives by sending bulk SMS using text messaging software.
You can download trial version from here :

Go for
Mac Version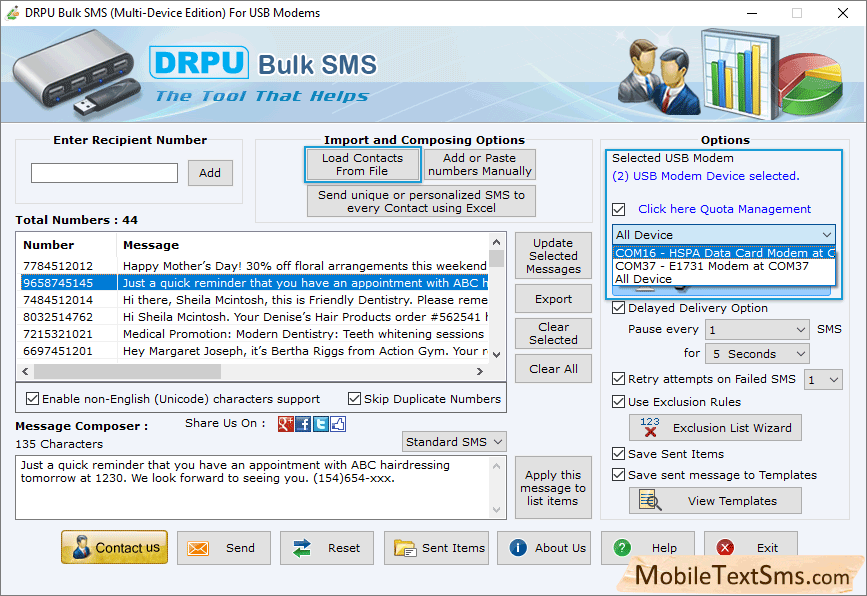 » Expands your business marketing and increase sales with bulk SMS software!
Text messaging software helps you to increase sales and revenue of your business by promoting your products and brands through sending bulk SMS.

¬ Software Features :
No internet connection is required to send bulk number of text messages via software.
Supports Non-English (Unicode) characters to send bulk messages.
Provides facility to skip duplicate number entries during the message sending procedure.
Software uses advanced Delayed Delivery Option to control the load of bulk SMS broadcasting.
Bulk text message software allows user to send standard messages or notifications as per your requirements.
Software is also having Exclusion List Wizard option to maintain the Lists of contacts or Groups, which you may need to exclude time to time when sending sms from pc.
Bulk SMS sending program provides option to load bulk numbers of contact numbers from file or using excel sheet.