Home
--› Text SMS Software (Multi-Device Edition)
Text SMS Software (Multi-Device Edition)
Bulk SMS Software (Multi-Device Edition) is developed for GSM mobile users who want to send bulk number of text messages from GSM technology based mobiles. Bulk text messaging program allows user to send multiple text messages through GSM mobiles connected with PC. You can connect multiple number of GSM technology based mobiles with the computer and send group text messages.
Drives traffic towards your business via bulk SMS software!
Mobile text messaging software is significant mobile marketing application that helps you to promote your brands and products via bulk SMS. You can attract more customers towards your business by broadcasting bulk text messages and increase your company sales.
Stay connected with your friends, relatives and customers with bulk SMS software!
Bulk SMS sending program facilitates to communicate with friends, relatives, clients and customers via sending bulk text messages.
You can download trial version from here :

Go for
Mac Version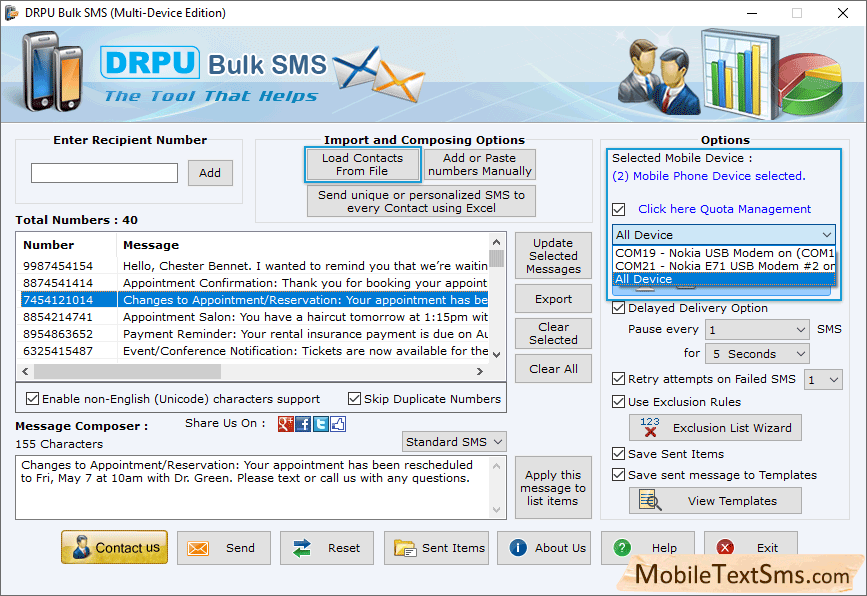 Software Features :
Enables user to send multiple text messages from PC using GSM mobiles.
No internet connection is required to send bulk SMS from PC via GSM mobiles.
Has inbuilt delay delivery option to manage the load of bulk SMS broadcasting.
Enables user to send standard messages or notification.
Easily saves sent messages details that can be viewed by the users.
Provides facility to skip duplicate number entries during the messaging sending procedure.
Allows user to send bulk SMS in all Unicode languages.
Advance list wizard option to maintain the list of contacts or groups.